Determining Eye Exam Frequency
An eye exam is more than a sight test. Routine eye exams are crucial for preventive health care, like a trip to your dentist or a family doctor. But how often should you schedule a comprehensive eye exam? Should adults and seniors have eye exams as frequently as children?
More Than 20/20
Seeing clearly can make daily life easier, but 20/20 vision doesn't mean you have healthy vision. Vision screenings or sight tests only measure visual acuity to determine if you need a prescription to correct a refractive error. A comprehensive eye exam assesses multiple aspects of eye health.
An eye exam can help update your glasses prescription, but it's also crucial for preventive health care. According to a survey by the American Optometry Association (AOA), 1 in 5 Americans is diagnosed with non-eye-related health issues by their optometrist.
Optometrists can detect more than 270 health conditions, including:
Autoimmune diseases
Cancer
Diabetes
High blood pressure
Stroke
Thyroid disease
Vascular disease
Eye exams help your optometrist monitor changes to your eyes, vision, and health and recommend management options personalized to your needs. Additionally, optometrists can help patients treat or improve common eye problems like dry eyes, eye strain, headaches, and more.
Recommendations by Age
The American Optometric Association (AOA) has general guidelines for comprehensive eye exam frequency based on age and risk level. Your risk is based on your vision, family history, and medical history. Your optometrist may recommend more frequent eye exams if you have an increased risk of vision changes or eye health problems.
Children
Infants should have their first eye exam at about 6 months. The optometrist will check the health and development of their eyes. Although eye health problems are rare, early detection and treatment offer children the best chance for lifelong healthy vision.
Preschool children (2–5) are fine-tuning and developing their new visual skills. Vision problems like strabismus (crossed eyes) or amblyopia (lazy eye) often develop at this age. Preschool children should have a comprehensive eye exam at least once between ages 3–5 to check their development and assess eye health.
School-aged children (6–18) should have yearly comprehensive eye exams. The school environment and learning demands increase how much children work their eyes. An eye exam before school can help your child succeed, supporting their academic performance and self-esteem.
Vision screenings may miss as many as 60% of children with vision problems. Although checking their sight can help update your child's prescription, it's crucial to evaluate eye health to determine if other issues affect their vision.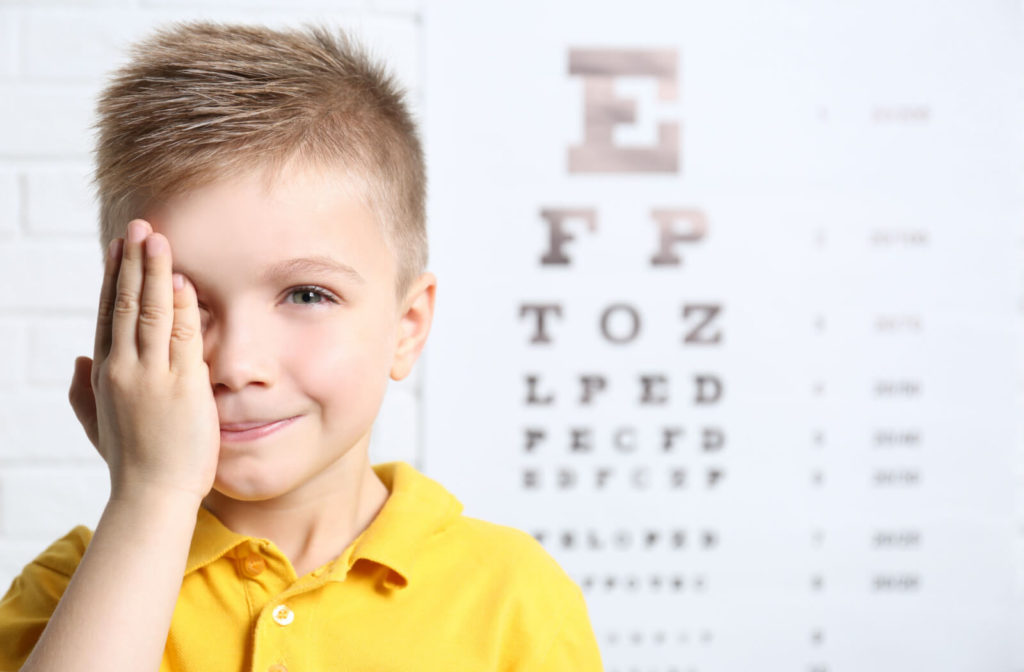 Adults
Adults between 19 and 40 with a low risk of eye problems should have an eye exam at least every 2 years.
Adults between 40 and 60 can experience normal vision changes, such as presbyopia—a refractive error causing blurry close vision, especially when reading or using a computer.
Adults over 40 with contributing health factors (such as diabetes, a visually demanding job, or certain medications) have an increased risk of developing eye and vision problems. Generally, those between 40 and 60 should have eye exams at least every 2 years. However, your optometrist may recommend more frequent visits if you develop eye problems or vision changes.
Seniors (over 60) should have annual eye exams. Multiple eye diseases and conditions can develop after 60, potentially causing permanent vision changes. The earlier changes are detected, the more likely treatment can help preserve your eye health and vision.
What to Expect
A routine comprehensive eye exam will include various assessments of your vision and health. Each test usually takes 5–10 minutes, with most appointments lasting an hour.
An eye exam appointment includes discussing your medical history, including any relevant family history, medications, or concerns. Understanding your history can help your optometrist determine your risk of eye health complications.
Your visual acuity will be tested using a letter chart. The test compares your ability to read letters at specific distances. For example, 20/20 vision indicates you can clearly see what the average person sees standing 20 feet away from the chart.
Noninvasive scans of interior eye structures are taken using digital retinal imaging (DRI) and ocular coherence tomography(OCT). These scans provide images of structures at the back of your eye, including the retina and optic nerve.
Detailed images of internal eye tissue can help optometrists monitor changes and diagnose eye diseases, such as age-related eye diseases, diabetic eye disease, glaucoma, and macular degeneration.
A slit lamp exam uses a low-powered microscope and light to evaluate the external eye structures, such as your eyelids, cornea, pupil, and lens. The exam can also help diagnose eye infections, injuries, and diseases. Your optometrist will also evaluate your eye movements and how well your eyes work together.
We'll use a visual field test to assess your peripheral vision. Decreased side or peripheral vision can be a symptom of eye disease, such as diabetic retinopathy or glaucoma.
Your optometrist may perform additional testing to confirm a diagnosis or rule out vision problems. Talk to your eye doctor if you have questions about any testing or results. Learning about your eyes and care can help you feel confident about your eye care options.
Book Your Eye Exam Today
Regular eye exams can help you maintain healthy vision. At Eye Care Center of Colorado Springs, we strive to provide eye care solutions for you and your family, whether it's routine or a hard-to-treat case.
We're here to support your eye care. Request an appointment for an eye exam!