Eye exams are important at every age, helping your eye doctor diagnose vision problems. Your child needs several eye exams as they go through school, but why should they have one before the start of the school year?
Continue reading to learn more about eye exams, including why they can be beneficial before school starts.
Why Should Your Child Get an Eye Exam Before the Start of School?
Consider a comprehensive eye exam a back-to-school necessity, just like pencils, notebooks, and pens. Your child's vision can frequently change as they go through school, making eye exams crucial for helping identify these visual changes.
For children, approximately 80% of their learning is visual. They read, write, play, and interact with others in school. With how important vision is for your child's development, an undiagnosed eye condition can significantly impact their academic performance.
Undiagnosed vision problems can affect children's development, school performance, self-esteem, and social interactions. An estimated 20% of preschool children have a vision problem, placing them at risk of issues in school.
Regular comprehensive eye exams are the best way to protect your child's vision. Your eye doctor can get a complete picture of your child's eye health and vision, identifying potential issues that can affect your child's development. Having this exam before school starts can help identify potential problems before they affect your child in school.
Your child needs several visual skills to succeed in school, including:
Eye focusing: The ability to maintain clear vision when changing focus from different distances.
Eye-hand coordination: Eye-hand coordination is the ability to use visual information to direct the hands & complete an action (hitting a ball).
Eye teaming: The ability to have the eyes work as a team when moving them along a printed page & judge distances or depth.
Eye tracking: The ability to keep the eyes focused when looking from one object to another.
Visual acuity: Visual acuity is the ability to see clearly from far, medium, & close distances.
Visual perception: Visual perception is the ability to organize images on a page into words, letters, & ideas. This skill includes the ability to understand & remember previously read words.
Your optometrist tests these visual skills during your child's eye exam, helping identify potential limitations in their vision. They can then recommend ways to improve your child's vision, whether with glasses, contact lenses, or other treatments.
Assessing your child's vision as they go through school is essential for their vision and eye health. Unfortunately, many parents avoid taking their children for eye exams, assuming that school-provided vision screenings are enough. However, this isn't the case.
A Vision Screening Isn't the Same as an Eye Exam
A common issue for children is the development of a refractive error, such as myopia, hyperopia, or astigmatism. Your child can have problems, even if they can see clearly. These problems can affect your child's reading, learning, and playing ability.
These problems can go undiagnosed if your child skips their eye exam. Many parents assume vision screenings are enough to catch eye conditions, but they aren't. A vision screening isn't as comprehensive as an eye exam.
According to the American Optometric Association, approximately 75% of vision screenings miss vision problems. Additionally, up to 61% of children found to have an eye condition through a vision screening don't visit their optometrist.
The Differences Between Comprehensive Eye Exams & Vision Screenings
There are many differences between comprehensive eye exams and vision screenings. Vision screenings aren't typically as in-depth as eye exams, making them ineffective for identifying problems. Vision screenings have significantly fewer tests than eye exams.
Vision Screenings
In general, many vision screenings only involve your child reading an eye chart, helping uncover a potential refractive error. The staff conducting vision screenings don't look at everything affecting your child's eyes. While vision screenings can help identify larger vision problems, many eye conditions go undetected.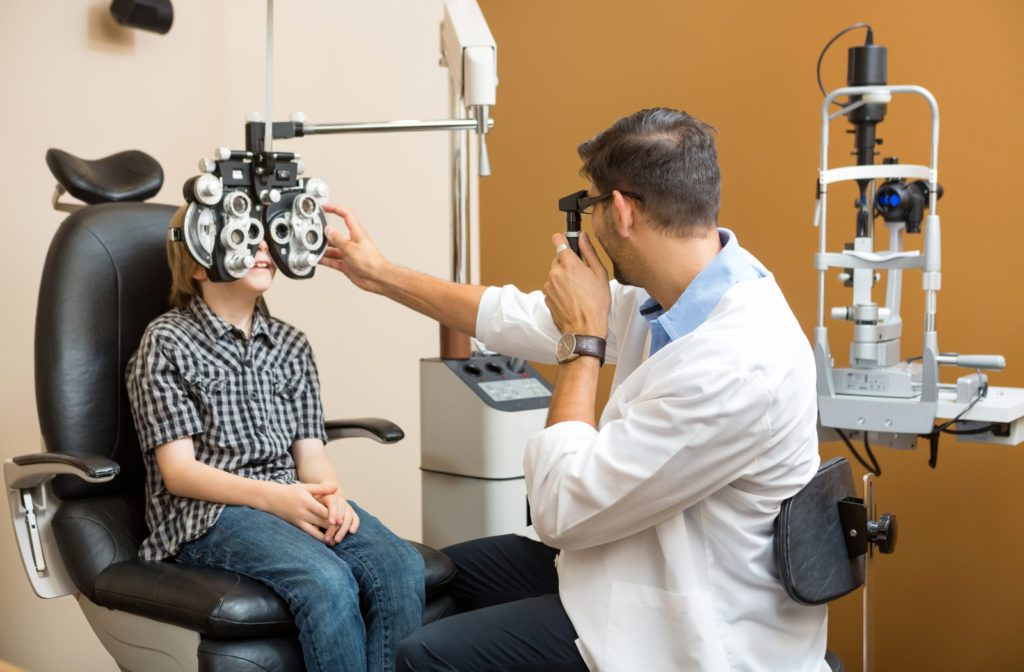 Comprehensive Eye Exams
A comprehensive eye exam involves several tests to assess your child's eye health and vision. Using diagnostic technology, your eye doctor can diagnose eye problems in their earliest stages. Many eye problems can develop in children, and eye exams can help protect your child's eye health and vision from worsening.
Your child's eye exam includes some of the following steps:
Medical history
Detailed examination of the eye's internal structures
Remember, vision screenings aren't a substitute for comprehensive eye exams. Booking regular eye exams for your child can benefit their eye health and academic performance.
How Often Should Your Child Have an Eye Exam?
According to the American Optometric Association, children should have many eye exams as they grow. Depending on your child's age, their eye exams should follow this schedule:
One exam between 6 to 12 months old
One exam between 3 to 5 years old
Annual exams from 6 to 18 years old
Your child should have an annual exam once they start school. You can line this exam up with the start of the school year to help your eye doctor identify visual changes before they affect your child in school.
It's important to note that this exam schedule is only a guideline. Your eye doctor may want to see your child more frequently if they have an eye or medical condition. Always listen to their recommendations and book your child's exams accordingly.
Contact your optometrist when it's time for your child's next eye exam.