If you turn on the TV, head to the shopping mall, or even walk around the block, you'll probably find someone who has benefitted from the magic of aesthetic medicine. But what exactly are medical aesthetics?
Medical aesthetics are medical procedures that focus on improving a patient's appearance. Most aesthetic procedures are:
Quick
Minimally invasive
Safe
Effective
Require little to no post-treatment recovery period
New treatments, tools, and devices are developed every day in the interest of aesthetic medicine. The root of a patient's safety comes down to the fundamentals of anatomy, and the practitioner's medical experience.
The goal of aesthetic medicine is to increase confidence; most patients want to look like themselves, just a little more refreshed. Medical aesthetics can deliver incredible results safely and quickly, and procedures are available in various settings, including your optometrist's office!
At the Eye Care Center of Colorado Springs, we offer top-quality eye care, and a few specialty aesthetic procedures to help rejuvenate, redefine, and replenish our patient's skin. Top-of-the-line technologies go hand in hand with effective and comfortable aesthetic and medical treatments.
Contact us if you'd like more information about the aesthetic medicine offered at our practice.
Optometry & Aesthetic Medicine
Your optometrist wants you to achieve healthy vision, and feel secure in your appearance. Many optometry practices include aesthetic procedures to help meet the growing and changing needs of patients.
Eye care professionals are particularly suited to offer surgical and nonsurgical aesthetic services; they are medical professionals with a keen understanding of the facial structure, connective tissues, and skin.
Experiencing an aesthetic treatment at the optometrist's office means the patient benefits from their eye doctor's well-informed opinion, and their scientifically-based advice; a significantly essential factor when it comes to procedures occurring around the eyes.
Optometrists can easily add cosmetic services to their practices, providing patients with a safe and successful treatment experience in a professional environment.
Top-of-the-line technologies provide quick, comfortable, and effective aesthetic and medical treatments. To learn more about the effectiveness and convenience of aesthetic medicine and optometry, book an appointment with us today.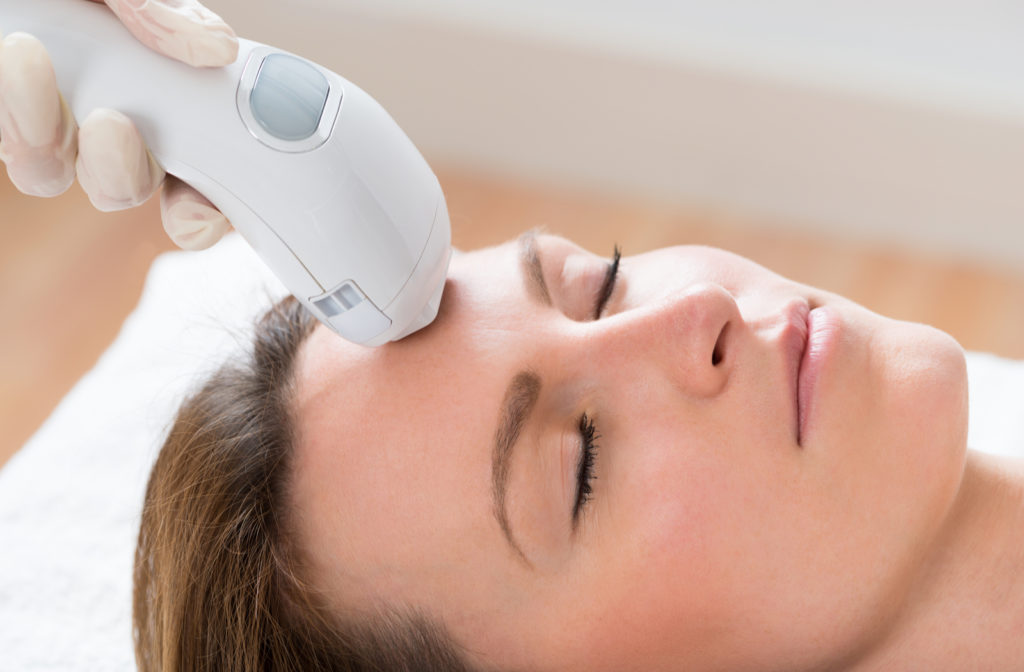 Aesthetic Treatment From The Professionals
At the Eye Care Center of Colorado Springs, we're in the business of making our patients see better, and feel happy with their appearance. We'll work closely with you to make sure you get the high-quality eye care you deserve, and the ability to feel good in your own skin.
We offer a variety of medical aesthetics to give you the look you want, by enhancing all your best features.
Lumecca
Lumecca IPL is an FDA-approved laser used to treat dry eyes by targeting inflammation at its source. Intense Pulsed Light (IPL) treatment helps relieve dry eye disease and meibomian gland dysfunction, and as a bonus, offers a few aesthetic benefits. Lumecca can also treat:
Redness: Lumecca may help to reduce the reddened, flushed, bumpy skin associated with rosacea. IPL treatments can also tone down the appearance of broken blood vessels.
Sun damage: IPL can help lighten mild pigmentation from sun damage and the appearance of liver spots.
Aging skin: Skin discoloration, fine lines, and wrinkles are treatable with IPL.
Forma
Forma is typically used to treat dry eyes resulting from meibomian gland dysfunction. Forma uses radiofrequency and thermal energy to clear debris from the patient's meibomian glands, eliminating the need for eye drops and warm compresses.
This incredible technology can also be used by a medical professional to increase collagen production. It's a true jack-of-all-trades solution, completely non-invasive and comfortable.
Your optometrist can safely use this technology to lift and tighten skin, stimulating healing deep in the layers of tissue, while gently alleviating loose skin and fine lines.
Morpheus8
Morpheus8 is a procedure that combines microneedling with radiofrequency energy. This treatment helps rejuvenate the patient's skin around and under their eyes. Skin becomes thicker, tighter, and more lifted.
With just a few treatments, Morpheus 8 can help improve the appearance of:
Dark circles under the eyes
Eye bags
Fine lines
You Deserve The Best
At Eye Care Center of Colorado Springs, we believe our patients deserve the very best products, eye care, and personal services available.
Confidence is key to healthy self-esteem. We offer medical aesthetics at our optometry practice to help our patients feel refreshed and comfortable in their own skin, making it possible to put their best face forward every day.
Our optometrists will work closely with you on a customized plan to achieve your goals, and make sure you feel confident and happy with the result of your treatments.
If you're interested in learning more about the cosmetic benefits of aesthetic medicine, book a consultation with our passionate and experienced team. We have all the latest details about trends and technology, and can't wait to share them with you.
Give us a call today for more information!