A More Versatile Lens
If you've had issues with contact lenses in the past, you may think that eyeglasses are the only option for your prescription. Standard lenses can indeed be uncomfortable, unstable, and irritating for individuals who need a more out-of-the-box solution.
There's no one-size-fits-all answer for clear vision. Thankfully, contact lens technology has advanced significantly in the last few decades, and there are specialty lens options available for nearly everyone.
If you're looking for specialty contact lenses, you may be interested in the versatility of a scleral lens.
The Skinny on Scleral Contact Lenses
Scleral lenses are gas permeable lenses, designed to dome over the surface of your cornea, resting on the sclera (the white of the eye).
Patients with eye conditions like keratoconus or irregularly shaped corneas may benefit from scleral contact lenses for their specialized prescriptions. Scleral contact lenses can help correct vision problems specifically related to corneal irregularities by providing a smooth optical surface.
Patients with dry eyes may also enjoy the benefits of scleral contact lenses. Conventional contact lenses rest directly on the eye, whereas scleral lenses are fitted to leave space between the lens and the cornea.
The space between the back surface of the scleral lens and the cornea acts as a fluid reservoir, creating hydration and comfort for those not usually able to wear standard contact lenses.
The Benefits of Scleral Lenses
Scleral Lenses & Your Prescription
Scleral lenses are versatile, and can benefit various prescriptions and eye conditions, like:
Corneal irregularities resulting from surgical procedures
Severe refractive errors
Patients who cannot find a comfortable fit using standard lenses
Patients who experience sliding or frequent lens loss with standard lenses
Patients with dry eyes
If you are interested in the benefits of scleral contact lenses, your next step is to book a contact lens exam and fitting. Your optometrist will discuss the details of scleral contact lenses, and help determine if this type of lens is the right choice for your vision.
EyePrint PRO Prosthetics
EyePrint PRO designs unique contact lenses for each eye by scanning the ocular surface to create a custom fit.
EyePrintPro is made from a gas permeable material that domes over the cornea, like a scleral contact lens. However, EyePrint PRO uses 3D printing and scanning technology to create a personalized lens for your eye.
These personalized lenses offer improved comfort and stability, and are recommended for patients with conditions like:
Irregular astigmatism
Ocular surface disease
Dry eyes
Trauma
Extreme eye malformations
Chemical burns
Post-operative effects from corneal transplants or LASIK surgery
Stem cell failure
Patients without the above conditions can still use EyePrint PRO lenses for a smoother, more comfortable contact lens experience.
If you are considering EyePrint PRO prosthetics, contact your optometrist for further details.
Will My Insurance Cover Scleral Lenses?
Scleral lenses are personalized to each patient, and the prices can vary depending on the prescribed lens. Your optometrist should provide you with details on lens pricing.
There are many types of vision coverage, with varying deductibles and costs. It's essential to contact your insurance provider for specific information about your coverage.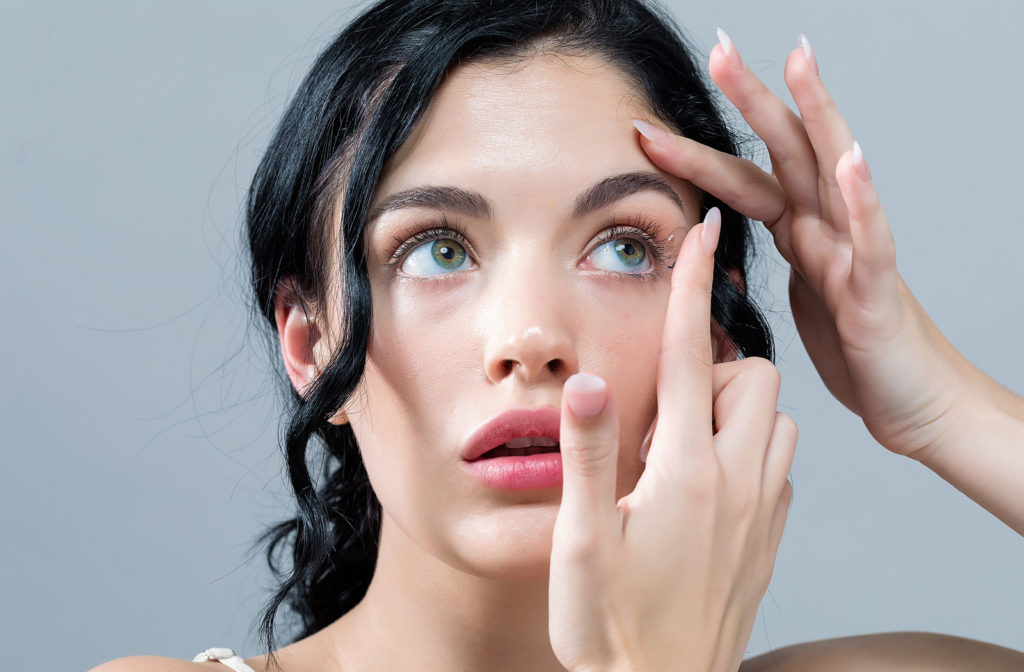 Caring For Your Scleral Lenses
Your optometrist should provide care and handling tips for your new scleral lenses before you take them home. Don't be afraid to ask questions if you're unsure of the process –your eye care provider will walk you through the details as many times as needed.
Taking care of your lenses is a vital step towards healthy eyesight. You'll want to handle your lenses properly to avoid bacteria and infections. And great news! Caring for scleral lenses is very similar to caring for standard contact lenses.
Follow the instructions provided to you by the optometrist, and:
Wash your hands thoroughly before handling your lenses or touching your eyes
Put the contacts in the palm of your hand with some drops of the solution recommended by your optometrist
Rub both sides of each lens in a gentle, circular motion
Rinse your contacts with the recommended solution
Make sure to put each lens in the correct case, and fill the case with fresh solution
Tightly close the case
Ensure you are using fresh solution each time you rinse and store your lenses
Replace your contact lens case every 3 months
Are You Ready For A Fresh Start?
If you've been told in the past that contact lenses won't work for your prescription or lifestyle, scleral contact lenses may be the game-changing solution you've been searching for. You can enjoy a frame-free life with scleral lenses without sacrificing your comfort.
For further details about scleral contact lenses or EyePrint PRO Prosthetics, book an appointment with our team at the Eye Care Center of Colorado Springs. We'll get you on the right path to clearer, more comfortable vision.