Odds are, you know someone with myopia. This widespread visual condition is becoming more and more prevalent in North America, but most people won't recognize it until they hear its more popular nickname: nearsightedness.
Our bodies grow fast in childhood, and our eyes grow right alongside us. When our eyeballs lengthen too quickly in childhood, this condition is referred to as myopia.
Myopia results in an elongated eye shape, causing light to bend incorrectly, leading to images focusing in front of the retina. This refractive error results in closer objects appearing clear and sharp, and distant objects appearing distorted, blurry, or out-of-focus.
This condition typically presents in children, and gradually worsens through the teenage years until adulthood. Studies have not been able to pinpoint the cause of myopia, but experts speculate it could be genetic.
Some research into myopia development suggests that spending significant amounts of time on a screen or computer, doing close-up tasks, or reading may contribute to the development of nearsightedness.
Optometrists can effectively control myopia by using special assessment tools and providing therapeutic programs and solutions. If you have concerns about myopia for yourself or a loved one, contact the Eye Care Center of Colorado Springs.
Our knowledgeable and experienced team is ready to help!
Symptoms of Myopia
An adult with myopia may experience the following symptoms:
Far away objects appear blurry or out-of-focus
Having to partially close eyes or squint to see clearly
Irritated eyes
Frequent headaches
Eyestrain
Difficulties driving in day or night
Myopia is becoming more common in children, and symptoms generally present in the early school years. Our optometrists encourage younger patients to have annual eye exams, to help ensure success and happiness throughout the school years.
If you notice your child developing any of the below symptoms, book an eye exam right away:
Persistent squinting
Frequent headaches
Needs to sit close to the television or movie screen
Needs to sit at the front of the classroom
Appears unaware of objects in the distance
Excessive blinking
Constantly rubbing eyes
Atropine Eye Drops & Myopia
Your optometrist can use low-dose atropine drops to help slow myopia progression in children. Although studies have not determined precisely why atropine works, this treatment has proven effective in children while their eyes are still growing.
What Is Atropine?
Atropine eye drops are typically used to dilate the eyes during a comprehensive eye exam. The atropine used in your eye exam is called ophthalmic atropine. Optometrists can use a lower dose of this medication for myopia control.
Low-dose atropine dilates the pupils and weakens muscle contractions inside the eye, relaxing its focusing mechanisms. While experts can't confirm why this affects myopia progression, studies suggest atropine binds to specific growth receptors in the eyes, blocking the stimulation that encourages rapid growth.
Myopia is irreversible, and children treated with atropine may still need glasses or other visual aids. However, low-dose atropine often succeeds in slowing a child's nearsightedness, and their refractive errors are usually less pronounced than others who haven't received this treatment.
There are various atropine drops available, and your optometrist can recommend an effective dosage for your child.
Studies have shown that stopping low-dose atropine treatments may result in a reoccurrence of myopia progression. Early diagnosis and consistent atropine treatment are essential for overall eye health.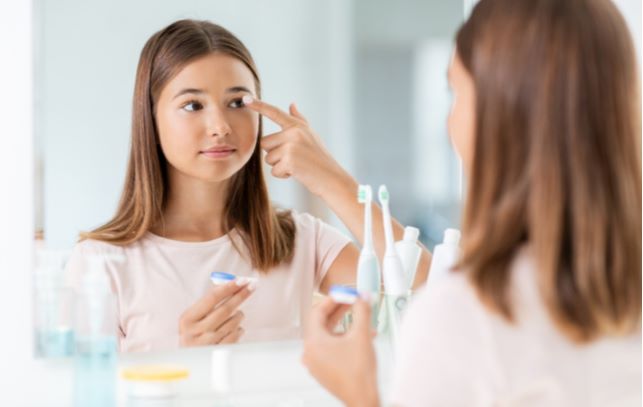 Other Treatment Options
Children between the ages of 6 and 15 will typically experience more significant benefits from myopia control treatments, as most are only effective while eyes are still growing. The primary purpose of myopia management is slowing accelerated eye development.
Myopia treatments do more than correct vision; they protect your child's vision from deteriorating and reduce the overall risk of serious eye disease resulting from this condition.
Here are a few additional treatment options that may help control myopia in children:
The ultimate treatment goal for children with myopia is slowing progression. Optometrists hope that by restricting the eyes' growth, your child can avoid the severe complications of high myopia in their adult years.
Complications resulting from high myopia can include:
Macular degeneration.
Glaucoma
Retinal detachment
Cataracts
Compassionate Treatment for Healthier Vision
If you suspect your child has myopia or problems with distance vision, contact your optometrist for a comprehensive eye exam, and speak to them about the long-term benefits of low-dose atropine.
Patients with myopia can benefit from the experienced and compassionate vision care offered at the Eye Care Center of Colorado Springs. We conduct screenings for myopia in every children's eye exam, and work hard to ensure the healthiest vision possible for our youngest patients.
We're passionate about eye health for the whole family. Our practice firmly believes in creating a safe and comfortable environment for children. We can also correct refractive errors resulting from myopia with a pair of fashionable frames and lenses from our well-stocked showroom!
Reach out to our incredible team for more information about myopia. You're not alone in the fight against myopia progression. We're here to support you and your family. Call us today.