High myopia describes the condition of being severely nearsighted. Severe cases of myopia can drastically affect your quality of life and can make daily tasks difficult to perform without the use of corrective lenses. If you are experiencing high myopia, it is imperative that you get your eyes examined to receive a proper diagnosis and treatment for your condition.
What is Myopia?
Myopia (or nearsightedness) is a common vision problem that makes objects further away from you blurry and out of focus. Myopia occurs due to the shape of your eye incorrectly refracting light so it focuses before it reaches your retina instead of focusing at the retina.
Myopia can develop rapidly or quite slowly, and it is often influenced by genetics. The best way to confirm if you are experiencing myopia is to receive a comprehensive eye examination.
Children With Myopia
Many children can develop myopia early in their lifespan, which can severely affect their quality of life and ability to learn. It is important to consider getting your child examined for refractive errors, as a condition like myopia can put your child at risk of developing eye diseases like retinal detachment, glaucoma, cataracts, and macular degeneration.
Symptoms
If you think that your child has myopia, some signs that they will need treatment are:
Causes
Myopia is a refractive error, meaning that light does not refract properly through your cornea or lens which causes the light to focus at a different point other than directly on the retina. Nearsightedness usually occurs when your eyeball is longer than normal or your cornea is curved too steeply. You will experience a refractive error if your cornea or lens isn't evenly and smoothly curved.
What is High Myopia?
High myopia is a severe form of myopia that describes nearsightedness that needs equal to or under -5.00 diopters of refractive power in order to correct the condition. Diopters are a unit of refractive power equal to the reciprocal of the focal length in meters and are used to measure the refractive power of your eye's lens.
People with high myopia are at greater risk of developing eye diseases, such as:
Risks
These risk factors can increase the likelihood of developing high myopia:
Genetics – If one or both parents have high myopia, their child will most likely be affected by severe nearsightedness as well.
Environmental change – Lack of time outdoors may increase the likelihood of developing myopia.
Retinal Detachment
A retinal detachment is a condition in which the retina at the back of the eye pulls away from its normal position. Retinal detachment separates the retinal cells from the layer of blood vessels that provides oxygen and nourishment. If retinal detachment goes untreated for a long period of time, you are at greater risk of permanent vision loss in the affected eye. The risk of developing a retinal detachment is 5 to 6 times more likely in people with high myopia compared to those with less severe myopia. This is due to the elongation of the eyes increasing the chances of retinal tearing.
How Myopia is Diagnosed
Myopia is usually diagnosed through a refraction assessment during a comprehensive eye exam. An optometrist will use various instruments and ask you to look through several lenses to test your distance and close-up vision during a refraction assessment. A refraction assessment will determine if you have vision problems like nearsightedness, farsightedness, astigmatism, or presbyopia.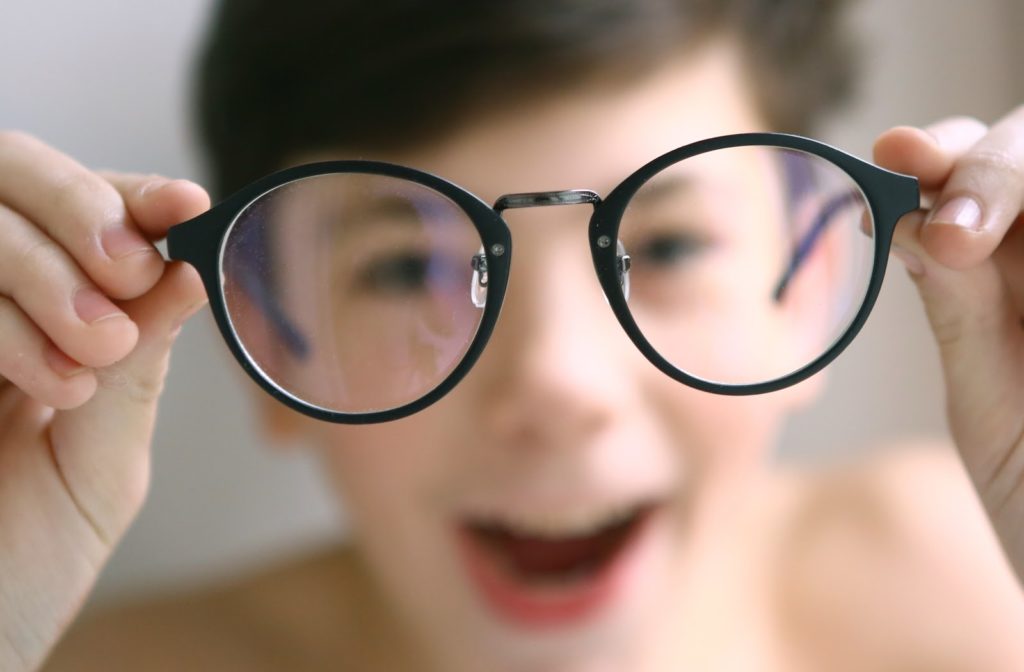 Myopia Treatment
Myopia treatment is the act of treating nearsightedness through corrective measures like glasses, contact lenses, and refractive surgery.
Prescription Lenses
You can treat less severe cases of myopia through the use of corrective lenses. Corrective lenses counteract the increased curvature of your cornea or the increased length of your eye. Prescription lenses include:
Eyeglasses – Wearing eyeglasses is the simplest way to treat myopia, and many different frames and specialty lenses are available to suit your specific needs.
Contact lenses – Similar to glasses, contact lenses can treat refractive issues. Instead of wearing them on your face, they rest directly on your eye.
Refractive Surgery
Refractive surgery will reduce or eliminate the need for eyeglasses and contact lenses. This might be the most effective method for treating high myopia. Surgeries that can treat high myopia include: