RF Microneedling is a skin treatment that combines the power of radiofrequency energy with microneedling to deliver amazing results. This treatment is designed to improve the appearance of wrinkles, fine lines, and acne scars, as well as to improve skin texture and tone. It can also be used to reduce the appearance of stretch marks and other skin imperfections.
Before RF Microneedling, a skincare professional will cleanse the skin and apply a topical anesthetic to minimize discomfort. The treatment typically takes 20-30 minutes, during which radiofrequency energy is delivered into the skin through microneedles.
After treatment, redness and swelling, similar to a mild sunburn, may occur but usually subside within 24-48 hours.
As the skin heals, patients may notice improved texture and reduced imperfections. Protecting the skin from the sun and maintaining hydration is crucial for optimal results.
The treatment is safe and effective, with minimal downtime and no risk of scarring. So if you're looking for a way to improve your skin's appearance, RF Microneedling may be an option.
What to Expect Before RF Microneedling
Before undergoing the procedure, it's important to understand what to expect and how to prepare. Here are a few tips to help you prepare for RF microneedling:
Schedule a consultation: Book an appointment with a qualified professional who will assess your skin and discuss your goals for the procedure. They can also explain the risks and benefits and answer your questions.
Prepare for the procedure: Follow your doctor's instructions, which may include avoiding sun exposure, discontinuing certain medications, and avoiding specific skincare products.
Plan for recovery: After the procedure, you may experience redness, swelling, and tenderness. Your doctor will provide instructions on how to care for your skin during the recovery period.
Enjoy beautiful skin: RF microneedling can help reduce wrinkles, acne scars, and skin imperfections. With the right preparation and care, you can achieve healthy, radiant skin.
What to Expect After RF Microneedling
After the procedure, you may experience some redness, swelling, and tenderness in the treated area.
This is normal and should subside within a few days. It is important to follow your doctor's instructions for aftercare. This may include avoiding direct sun exposure, using a gentle cleanser, and applying a moisturizer. You may also be advised to use a topical antibiotic or anti-inflammatory cream to help reduce any discomfort.
It is important to note that results from RF microneedling may not be immediately visible. It can take several weeks for the full effects of the treatment to be seen. However, with proper care and maintenance, you can expect to see smoother, more youthful-looking skin.
Understanding the Results of RF Microneedling
The procedure involves using a device that uses radiofrequency energy to create tiny punctures in the skin.
These punctures stimulate the body's natural healing process, which can result in smoother, firmer, and more youthful-looking skin. Before undergoing RF microneedling, it's important to understand the results you can expect. Immediately after the procedure, you may experience some redness and swelling, but this should subside within a few days.
After a few weeks, you should start to see the full effects of the treatment, including a reduction in wrinkles, scars, and other skin imperfections. It's important to note that the results of RF microneedling can vary from person to person.
Some people may see more dramatic results than others, and the results may not be permanent. To maintain the results of the treatment, it's important to follow a good skincare routine and protect your skin from the sun. With proper care, you can enjoy the benefits of RF microneedling for years to come.
Tips for Maintaining Results After RF Microneedling
RF microneedling is a popular treatment for skin rejuvenation, but it's important to remember that the results don't last forever. To help you get the most out of your RF microneedling treatment, it's important to take steps to maintain the results.
Here are some tips to help you keep your skin looking rejuvenated after RF microneedling:
Use a gentle cleanser and moisturizer to keep your skin hydrated and prevent irritation or dryness.
Don't forget to apply sunscreen with SPF 30 or higher to protect your skin from the sun's harmful rays.
Schedule regular RF microneedling treatments every 4-6 weeks to maintain the results.
Consider incorporating other treatments like chemical peels or laser treatments into your skincare routine.
Maintain a healthy diet and stay hydrated by drinking plenty of water to promote healthy and glowing skin.
Banish Under Eye Bags with Morpheus8
As we age, the collagen and elastin beneath our eyes can weaken, causing sagging skin or under-eye bags. In the past, surgery was the only option for treating this issue. However, Morpheus8, a skin rejuvenation procedure, offers a revolutionary way to address the effects of aging and genetics in this area.
Morpheus8 combines microneedling with radiofrequency energy to revitalize the skin around and beneath the eye. With as few as 3 treatments, this procedure can greatly improve the appearance of under-eye bags, dark circles, and fine lines. It can tighten the skin, reduce puffiness, and minimize the visibility of dark circles.
Our team will create a customized plan tailored to your goals. While some may see remarkable results after one session, multiple sessions often yield the best outcomes. Boost your confidence with Morpheus8, a non-invasive and effective way to rejuvenate your eye area.
Before and After RF Microneedling Pictures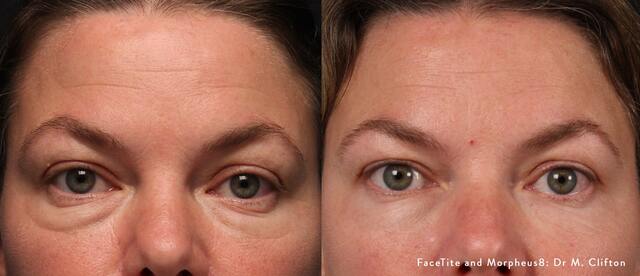 Learn More About RF Microneedling with the Eye Care Center of Colorado Springs
RF microneedling and Morpheus8 are revolutionary treatments that can help you achieve youthful, glowing skin. Our highly trained and experienced team of experts specializes in the latest techniques for RF microneedling and Morpheus8. We will work with you to create a personalized treatment plan tailored to your individual needs.
If you're interested in learning more about RF microneedling or Morpheus8, schedule an appointment with the Eye Care Center of Colorado Springs today. Our team of experts will be happy to answer any questions you may have and help you determine if these treatments are the right choice for you.