Halloween is a time for trick-or-treating, having fun, and bringing out one's creativity. Unfortunately, with all of the masks and makeup, it is impossible to guarantee that all will go well. Many at times, children's eyes are at a risk due to the exposure to harmful chemicals. It is important to ensure that proper care and attention is given to ensure that they have a safe and fun-filled Halloween. With some care and attention, you might be saving your kids from possible sight complications in their future life.
Below are important points that you may want to consider when dressing up your kid for Halloween. Paying attention to these points may go a long way in ensuring the safety of one's eyesight.
Masks and Makeup Safety
Kids love wearing masks during Halloween. While there are many that are safe, some masks are not so safe. A mask can at times obstruct one's vision, making it hard to see from properly. Other styles of masks might have very small eye holes. The holes may also shift when a kid is wearing the mask. If this happens, it becomes very easy for accidents to happen when a kid bumps into another. Worse still, the kid may wander off on a busy road and the results could be disastrous.
Instead of wearing a mask, one alternative is to use skin-friendly makeup. However when choosing the makeup to use, it is important to ensure that it does not irritate your kid's skin. The following are some tips from the Food and Drug Administration on how to apply the makeup in order to avoid irritation of the eyes:
Use the products that are approved and safe for your skin.
Keep those products away from your eyes. It is important to note that although a product has been approved for use on the skin or any other part of the body, it may still cause irritation to the eyes.
Take a lot of care when removing the product to ensure that it does not get into the eyes.
In the event that it gets in the eyes, flush the eyes with plenty of water and call for medical help immediately.
Decorative Contact Lenses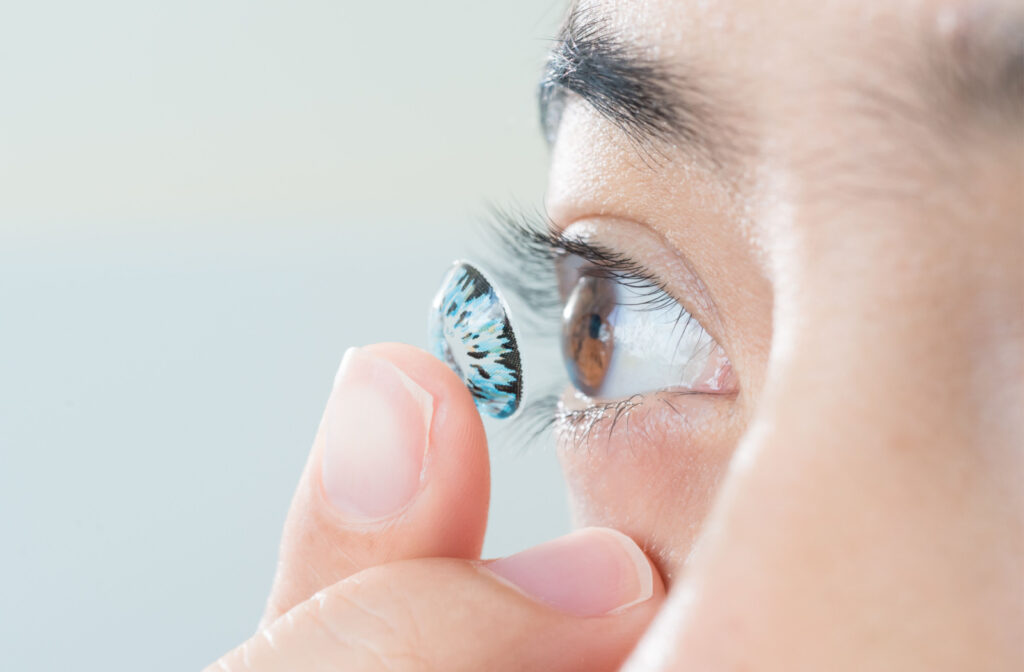 Colored contact lenses have skyrocketed in popularity over the last few years. The decorative lenses are meant to alter the appearance of one's eyes. For instance, to give them a cat-like appearance. Used properly, with quality, regulated products, colored contacts can be quite safe. Used improperly, however, they can pose a serious threat to the eyes of the one using them.
If proper care is not taken, you may encounter several issues. Over the years, there have been reported cases of conjunctivitis, corneal abrasions and corneal ulcers caused by improper use of contact lenses.
Note: The use of any contact lenses, whether decorative or not must be prescribed by a doctor. One should never buy lenses from anywhere other than professional eye care professionals. One should also not share their contact lenses or wear them for longer periods than what the doctor prescribes.
Vision & Visibility
The following are some tips that can help your kids to be safe, to see and be seen during Halloween:
Ensure that they are wearing reflective costumes that can be seen from a distance. One can also use a reflective tape on their treat bags.
Ensure that they are carrying a flashlight. Note that the "glow sticks" that are commonly sold during Halloween have chemicals that may irritate the eyes.
Make sure that the kids' hats are secure fixed on their heads so that they may not slip off and obstruct their vision.
The above are tips that are easy to implement and may go a long way in ensuring that your kids have a safe and fun Halloween.