Contact lenses are one of the more common choices for vision correction, offering convenience, comfort, and an excellent alternative to traditional eyeglasses. However, it's important to know the specifics when it comes to contact lenses—like how long a contact lens prescription lasts.
Whether you wear them occasionally or daily, they do expire like any other medical prescription, which can make them unsafe to wear. Your eyes and vision change over time, so it's essential to regularly visit your optometrist for comprehensive eye exams.
Your contact lens prescription typically lasts about a year. By getting your eyes checked once a year and getting properly fitted, you can keep your prescription and lenses up to date and avoid wearing expired contacts.
Do Contact Lenses Expire?
When it comes to how contact lenses expire, there's a common misconception that the lenses themselves are what expires. However, this isn't necessarily the case. When not in use, contact lenses should always be stored in an airtight case in a sterile saline solution. These cases and solutions are what actually expire.
These cases are usually made of plastic, and over time the plastic can begin to wear down. If the seal on the case is compromised or the case is no longer airtight, then harmful bacteria, spores, or contaminants can enter. If these touch the lens, these contaminants can spread to your eyes when you put the contact lens in.
This can lead to all kinds of conditions or medical concerns. It helps to always wash your hands before and after handling your contacts to avoid spreading any contaminants. By practicing a proper hygiene routine with your contacts, you can avoid damage to your eyes.
The lenses themselves can also wear out over time, like getting scratched or misshapen. It's important that you follow the advice of your optometrist and avoid using out-of-date materials to store and clean your contacts.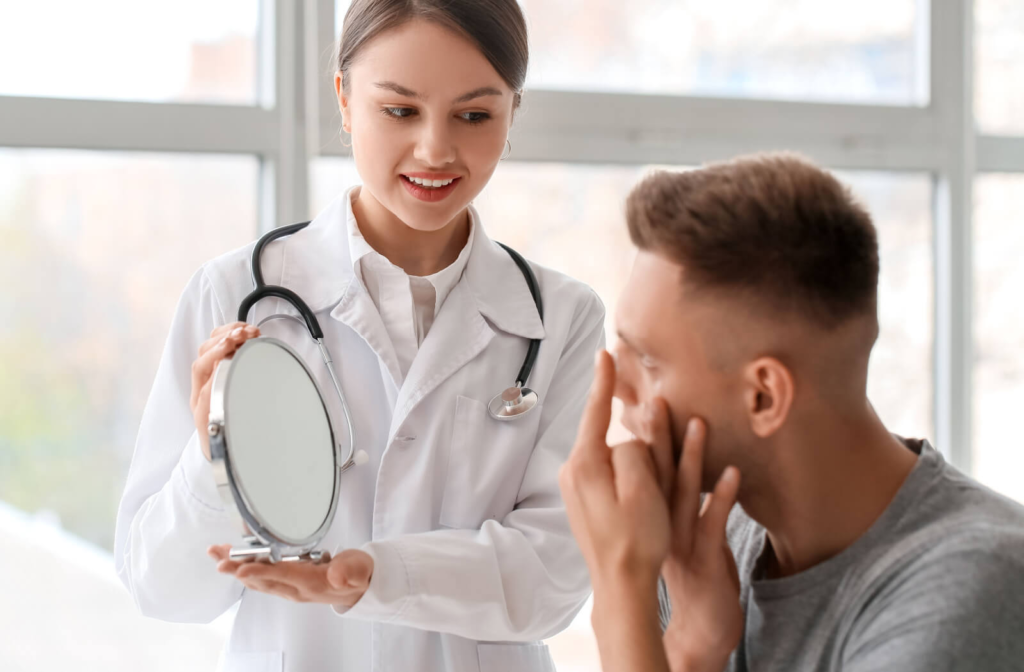 When Does a Contact Lens Prescription Expire?
The prescription on your contact lens also has an expiration date—typically 1 year from when you order them. However, this can change depending on several factors like:
The type of lenses ordered
The doctor prescribing the lenses
Medical conditions that can affect your eyes
Certain environmental factors, like your area or environment
Due to how many factors there are when it comes to the prescription expiring, it's important that you follow the recommendations of your optometrist. You should avoid wearing contact lenses with an expired prescription, case, or solution.
There are several types of contact lenses available, including:
Daily disposable lenses, which can be worn just one day
Rigid gas-permeable lenses, which typically last the longest
Soft lenses, which are more comfortable but last for a shorter time
Most lenses will have a duration printed on their label for how long they should be worn. This could be daily, weekly, or monthly. Check the box before using your contacts so you know how long you can safely wear them.
Can You Use Expired Contacts?
It's a good idea to dispose of expired contact lenses, even if the case or solution appears safe. The materials on the contacts, solutions, and cases can wear down over time, letting in harmful contaminants from the outside.
If you use expired contacts, it can lead to potential issues with your eye health. Whether it's dry eye, pseudomonas aeruginosa (a bacteria that can severely damage your eyes), or even a fungal infection, expired contacts can become a breeding ground for bacteria and contaminants that can pose a risk to your eye health.
Using a pair of expired contacts can also be frustrating, as your eyes naturally change over time. If your eyes adjust or your prescription changes in any way, they have to work harder to see through an older prescription. This can affect your daily life by making seeing things significantly harder and straining your eyes in unnecessary ways.
What to Do if Your Contact Lenses Expire
If you discover that your contact lenses have expired, the first thing you should do is visit your optometrist for an eye exam and contact lens fitting. They can evaluate your vision and monitor changes before fitting you for a new pair of contact lenses.
Here at Eye Care Center of Colorado Springs, we know how important your vision is to your day-to-day life. Schedule an appointment with us today to learn more about updating your prescription!